Principal Investigator
Dr Kavita Babu
kavita.babu [at] babulab [dot] org and kavitababu [at] iisc [dot] ac [dot] in
Kavita completed her undergraduate degree in Physics, Chemistry and Mathematics, from St. Joseph's College, Bangalore. She then attended the MSc Biotechnology programme at The Maharaja Sayajirao University (MSU), Baroda but left midway to pursue her doctorate at Professor William Chia's laboratory at the Institute of Molecular and Cell Biology (IMCB, now IMCB-A*STAR), Singapore, King's College London (MRC Centre for Developmental Neurobiology), London and Temasek Life Sciences Laboratory. Kavita went on to do her Post-doctoral research at Professor Josh Kaplan's laboratory at the Massachusetts General Hospital (Department of Molecular Biology), Boston, MA. Subsequently, in August 2011, Kavita joined IISER, Mohali.
After spending more than 7 years in Mohali, Kavita moved back home in 2019 and is currently studying aspects of the C. elegans nervous system at The Centre for Neuroscience (CNS) at Indian Institute of Science (IISc), Bangalore.
Kavita was a Wellcome Trust — DBT India Alliance Intermediate Fellow and a recipient of the DBT-Innovative Young Biotechnologist Award. She is currently a Wellcome Trust — DBT India Alliance Senior Fellow and is a recipient of the Janaki Ammal- National Women Bioscientist Award (young category, 2019).

vanditabhat [at] iisc [dot] ac [dot] in
Vandita obtained her MS and PhD degrees from Dr. Zachary T. Campbell's laboratory University of Texas at Dallas. Her graduate research was centred around post-transcriptional regulation of RNA by protein complexes and associated biological consequences in the context of Caenorhabditis elegans germline stem cell regulation. Vandita's PhD work was published as two papers in eLife.
Vandita joined the Babu lab, IISc, Bangalore in 2021 as a Post-doctoral researcher. She is currently an IISc, Institute of Eminence (IoE) Postdoctoral Fellow. Vandita is interested in mechanisms controlling RNA expression in neurons, which may play a pivotal role in memory formation.
sijus [at] iisc [dot] ac [dot] in
Siju is from Kerala,the place is known as "God's own country". He graduated in zoology from St thomas college, Mahatma Gandhi University. Siju then graduates with a MSc in Zoology from St Thomas college, Mahatma Gandhi University. He has also obtained a B.Ed in natural sciences from TITUS II Teachers College, Mahatma Gandhi University.
Siju has cleared the UGC NET (JRF) in 2016, and CSIR – NET LS in 2019.
Currently Siju is a Senior Research Fellow (SRF) in our laboratory and is working with Umer on tracking C. elegans to study it's locomotory behaviours.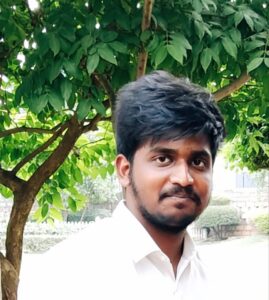 jagannathj [at] iisc [dot] ac [dot] in
Jagan pursued his BTech in Biotechnology from Sapthagiri College of Engineering, Bangalore. He then graduated with a Master's in Biological Sciences and Bioengineering from Indian Institute of Technology, Kanpur. Jagan had qualifies the GATE examination in Biotechnology and is currently working as a Junior Research Fellow (JRF) in our laboratory. Jagan is working with Vandita and Spatika to understand the role of mRNA binding proteins in regulating C. elegans behaviours.
yashodhah [at] iisc [dot] ac [dot] in
Yashodha graduated with an M. Com from Soundarya Institute, Bangalore University. She is currently our office administrator.
Suresh makes and autoclaves media, pours plates, and helps keep our lab clean and running.
Undergraduate/Graduate Students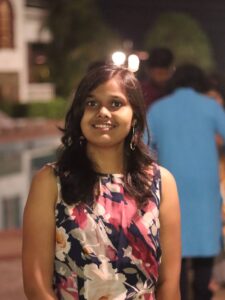 nisha18 [at] iiserbpr [dot] ac [dot] in
Nisha is from Barhi, Jharkhand and is a final year student at
IISER Berhampur
, Odisha. She is pursuing a BS-MS dual degree with a major in biology. She joined the lab in July 2022, for her master's dissertation project. Her interest lies in molecular biology and neuroscience. She is working with Navneet to understand the cellular mechanism of neuropeptide trafficking in
C. elegans
 neurons. 
Apart from research, she loves to do acrylic paintings, sketching and photography.